6/29/2002:
Yeah, Strip Kip can be a bit of an ass. Real Kip never is, of course. :-)
I'm in such a bad mood lately because I've been moving all week. Sil is in the Netherlands again. Other friends are taking off or have taken off already. Traffic in town is terrible (although, I must admit, parking is plentiful with so many students gone). The radio keeps playing that "Hero" song from Spiderman which I thought was Creed at first and hated. Then I found out it was someone else so I gave it a chance. But now it has been overplayed and I hate it again. Why is the radio playing only whiny somewhat angry rock?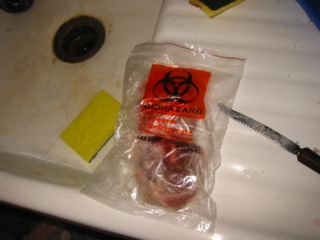 Summer camp starts on Sunday, so hopefully I'll shake off the mood by then. I am pretty happy that I'm all moved out of the old apartment, and a bit sad too, seeing it so unfurnished (yet SO clean). I have this great picture from moving out of this bag I found in the fridge. This was not mine. Definitely Sil's. The meat inside looked like chicken breast, or a human heart.
This past week has been spent moving in the mornings and afternoons and then going out at night. I went to the last storytelling night of the season at Uncommon Ground and saw lots of great tellers. I also met a bunch of people from Northwestern who invited me to sit with them, as I was there by myself. So, yay, meeting new, nice people.
I guess life is good, after all.
Sorry for the short blurb. Promise, more next time.
kip